Juliet, when we made love you used to cry.
You said, "I love you like the stars above.
I love you until I die."
And theres a place for us, you know the movie song.
When you gonna' realize that it was just that the time was wrong, Juliet?

I can't do the talk like the talk on the TV.
And, I can't do a love song like the way it's meant to be.
I can't do everything, but I'd do anything for you.
I can't do anything except be in love with you.

And all I do is miss you and the way we used to be.
And all I do is keep the beat and the bad company.
And all I do is kiss you between the bars of the rhyme.
Juliet, I'd do the stars with you anytime.

Juliet, the dice was loaded from the start.
And, I bet that you exploded in my heart.
And, I forget, I forget the movie song.
When you gonna' realize it was just that the time was wrong, Juliet?
All I can do is pray and work hard.

I don't make him happy anymore, but I try really hard.

I am really lonely.
Things are not really the same anymore.


Life hasn't been that bad lately! I went to Norman for Sam's party! And minus the fact that I felt like I had been run over by two cars the next morning and cried a lot at the end of the night, I had a very good time! We went to Waffle house the next morning and I got to drive back with Amanda, Katie, and Joel!

But, the best thing about Norman (Minus the people I love being there)would have to be a store called 'Atomic Pop!'. When you first walk in, half the of the entire right wall is nothing but Sanrio things. I spent fifty dollars in fifteen minutes. >>; But, it was SO amazing. And then the rest of the store is anime! It just makes me SO MAD that Tulsa doesn't have something like that! You'd think they would, but it is a store I have never seen before! lkjldkfjadf...~<3

I also went to this place called the Pita Pit. >>; It's basically Subway with pitas. You choose what kind of meat and vegetables you want and then they cook it and roll it up into a Pita pouch. I know it sounds really good, but I guess I am not a sandwich type of person and that is basically what it is. But, maybe it's because my bacon was burnt, because everyone else loved it.

My grandma is having surgery today. But it's just on her eyes, so it is okay. She was supossed to have it, but they turned her away because other health problems. But I guess she got to have it today because my mom has not called me to tell me otherwise!

I am going out to Mexican around two and then to work at four!
I got him a Rolling Stones t-shirt.
Current Mood:

chipper

Current Music:

The Sounds.


I got glasses today! They're pretty large and gaudy and i LOVE them. Most deff. not like anything I have had before. I also got perscription sunglasses too. They are also funny.

Last night I went over to Nikki's! She made dinner and we watched the first and third Harry Potter movie. She also had some Harry Potter trivia all rolled by in parchment and everything! I kind of sucked really bad, but it was so much fun!

I am on the fourth book, now. This book makes me really nervous.

Sam is coming home this weekend!
It's so blahh outside. I want to just take a nap and lay around for the rest of the day. I already worked 8-12 this morning. But, I have a Laurette appointment at three thirty. kjsldfjdf
Current Mood:

tired

Current Music:

The Shins.
Seeing as I will not be attending school this semester and I don't want to turn into a lazy person that lays on the couch all freaking day, I am going to make myself 100 percent in every other department! This means I am going to slim down to a size 5 or 7, for one. And get my license. And draw more. And get my room exactly how I want it. It is going to be a lot of hard work, but I am going to
make
myself do it.
I have note updated in a very long time! Lets see...
I am actually very shakey emotionally. I go from being super excited and energetic to very sad and depressed and tired. It's really weird. I think I am going to have an emotional break down in the next few months.
(
On a different note, Randy Heller hung himself in his front yard the other day.
Collapse
)
It really hit me that Sam was moving today when I wanted to show her something and she wasn't home. I don't want to think about the next year.
I am going to Norman tomorrow. Maybe it will help get my mind off of things.
This entry is going to be very bipolar and all over the place. (Which is how I am feeling.)
Current Mood:

blank

Current Music:

The Beatles.


FIRST DAY OF TNT.
It was very fun. I was stolen for two hours to monitor an anime room... I was to make sure no one fell asleep. But someone soon came to save me! (Not that I would mind watching 3443+ hours of Full Metal...Even if that is the saddest show to have ever existed...)

I also bought some very cute things! (Matching Hello Kitty and Dear Daniel dolls, BABY CINNAMON NOM NOM NOM Picture frame, marshmallow rolls, Hello Kitty light up water pistol, and a NANA ring to complete my cosplay! Pictures later.)

There were also these ADORABLE knitted things this lady made, which includes knitted pocky! I am going to buy some for Nikki Jones!


TAX FREE WEEKEND, on then other hand...
I really do not see what the big deal is. If you spend $100 dollars you save $8 dollars. Yes, that is enough for two tanks of gas, but is it worth braving all that traffic, TONS of rude and smelly people, annoying mall events, and all the gas you spend to get there? I wouldn't think so.


ALSO!!! My mom found a kitten at the gas station! He is the size of my hand and orange. He runs like a little baby and looks like the little baby when he rolls over on his back. He has the biggest feet and longest legs for a kitten EVER. They usually just hang over his head when he is laying down. I love him!


I can't do the talk like the talk on the TV.
And I can't do a love song like the way it's meant to be.
I can't do everything, but I'd do anything for you.
I can't do anything 'cept be in love with you.
The first day of both was a sucess! I worked from early in the morning until two. Then I went from work to the Crown Plaza downtown to help Sarah G. with TNTCosplay!
Current Mood:

giddy

Current Music:

"Romeo and Juliet"- The Killers.
This birthday party was Sarah Franklin's. Sam threw it for her at Fun House, Speed Racer birthday cake and all. Most of it was the most fun I have had in a large group of people in a long time.
(
Here's a few pictures!
Collapse
)
Noowww. The next story is the story of the
not so amazing
birthday party that took place at Tsunami Sushi.
Let me start off by saying that the reason this happened had nothing to do with the host. This host is my ex boy friend Jake. It was just very...unfortunate.
(
I'd rather just cut out all of the negative energy.
Collapse
)
On a MUCH happier note, yesterday I attended Rhys and Indi's estate sale today!
What they are doing is selling
EVERYTHING
in their home and
traveling around the world.
How amazing is that? When you walked into the house literally EVERYTHING had price tags. The bed sheets were sold, the towels, plastic forks, dishes, tables, bed, clothes, halloween costumes...Even the PLUNGER was for sale!
The awesome thing is Indi taught in Japan for an entire year. So I got all of her sweet Japanese stuff, including all of the amazing Japanese children books that she gave me! <3
(
My Looooot.
Collapse
)
In the past month I have attended two birthday parties. The first one I attended was amazing, so let's just start with that one.
Current Mood:

contemplative

Current Music:

The Beatles.
I'm going to the mall to buy some sweet shoes tonight. I am not sure what they're going to be, but they're going to look similar to this.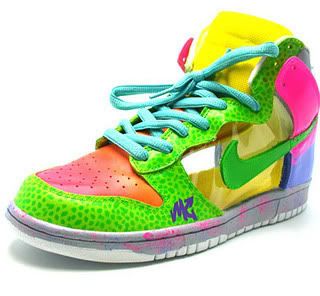 (Actually I love these.)
Now I am off to the mall to shopppp.
By the way, I hope I see everyone at Girl Talk this Saturday.
DDAANNCCEE PPAARRTTYY.
Forever 21 is open! How excited is everyone? Not as excited as me, that's for sure.
Current Mood:

excited

Current Music:

Girl Talk.


This is all true. I can't go back to school. Blah, Blah, blah my parents don't know.
Oh! And I had a birthday. I'm nineteen now. Which isn't that big of a deal seeing as most of the people I hang out with are 21+. Don't get me wrong, I am not complaining. I am terrified of getting older.

As I said before I have been getting into the Beatles lately. A lot. I have Rubber Soul, HELP!, Sgt. Pepper, and Magical Mystery Tour. I need to get, like, seven more. Maybe eight. I don't know. But I intend to get all of them.

I had a really horrible day today. Everything was just bad about it. But I had a long cry about it.

Edit.//

So I can't sleep. When can I ever sleep nowadays?

I have my second appointment with my therapist this Thursday. I am not sure if I am going to like her or not. She kind of ignored the fact that I have ADD and tried to tell me I was LD. (Bitch.)

But we talked about a lot of things. We talked about Brock. Me. Life. Austin. Jake.

In the end she diagnosed me with Disthemia. Apparently that is a mild form of depression that can flare into extreme depression with stress.

We talked about my paw paw and how he is gone now. This is something that affects me everyday. I am sure it will do that for a very long time. But I know that crying nonstop is not going to bring him back. I know that.

I am just very lonely. I've lost a lot of my friends. A lot. As in, most of them. It became very apparent of that at my birthday party when basically everyone left before it was even over. But people have plans and stuff, i understand that. Or they want to do other stuff.

It's just I always have this rain cloud hovering over me. I feel like I can't have a solid good day. Does that make sense? Basically I feel like this has been carrying on and on the same for a year and a half now. Even if everything is going great I always have that bad feeling.

I'm not happy. So I am hoping this lady can help me.
I've been working non-stop for the past few weeks. I feel kind of pathetic that when people ask me, "What have you been doing lately? Anything new?" all I can honestly say, "No. Nothing. I've been working a lot...They won't let me go back to TCC because I failed a class and now I am suspended. But, uhm, I've been getting into the Beatles a lot lately."
But, everyone will be gone. Everyone.